She was one of fashion's most influential eccentrics and sculpted the careers of some of the industry's greatest names. Over the last few months, Somerset House has tastefully paid tribute to the late Isabella Blow in an exquisite exhibit.
Wandering through the heart of this iconic location, the journey begins with Isabella Delves Broughton, as she was christened, and her family heritage. Continuing onwards, you were surrounded by the masterpieces of Alexander McQueen's CSM graduate collection, which Isabella famously purchased in its entirety and paid for in weekly £100 instalments. Further forward we encounter the mysterious millinery sculptures of Phillip Treacy, amongst the hundreds of pieces from her private collection as well as a selection of Blow's personals including a selection of her mismatched shoes and her favourite shade of lipstick. Beautifully curated installations depicted each outfit in Blow's own eclectic style.
Having worked under Anna Wintour at US Vogue, Tatler, British Vogue and Sunday Time Style, Isabella Blow had a magical career spanning over 30 years until her tragic death in 2007 by, as the exhibit put it, her own hand. A showcase of her eclectic apparel collection, now owned by Daphne Guinness, is delicately infused with insightful snippets and anecdotes of her history and personality, from growing up through to her prestigious positions.
Guinness said: "This exhibition is a bittersweet event. Isabella Blow made our world more vivid, trailing colour with every pace she took. It is a sorrier place for her absence. When I visited her beloved clothes in a storage room in South Kensington, it seemed quite clear the collection would be of immense value to a great many people."
The sombre highlight of this retrospective was the projection of the SS08 runway show, entitled La Dame Bleue, from Isabella Blow's protégés Alexander McQueen and Philip Treacy in honour of her passing.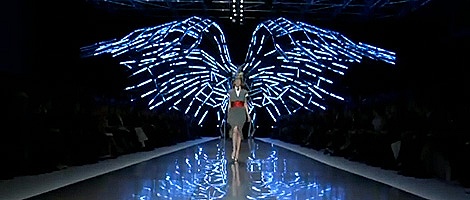 I've watched shows which excite the senses and conjure an explosion of inspiration yet never one which has triggered such overwhelming sadness. Knowing that the feather adorned creatures which made their way down the runway, to a powerful disco beat infused with sound bites of Blow's dulcet tones, were all wearing beautiful creations tinged with a consuming grief. Every piece was entirely Isabella.
As the finale piece made its way to the end of the catwalk the lighting changed, the music stopped and the deep beat of flapping bird wings pummelled through the room. The striking headdress of white birds took flight back down the catwalk and through the darkened doorway at the end, as if to symbolise the spirit and soul of this incredibly influential woman taking its final flight.
A muse, visionary and creative to the very core, Isabella Blow: Fashion Galore! was a tactile and apt tribute to the legacy of one of fashion's greatest influencers. It was an honour to receive that insight in to a mere microcosm of her existence.
"
Fashion is a vampiric thing, it's the hoover on your brain. That's why I wear the hats, to keep everyone away from me" – Isabella Blow